Surf and fitness special week
– Active holiday with surfing and certified functional training –
While staying in a beautiful villa in the cute village of Lajares, Fuerteventura, you will take the best out of challenging surf classes and activating functional training.
Villa
The Villa "Woodstock Lodge" is located in Lajares, the "Surf City" of Fuerteventura. This beautiful canarian style villa is located just outside the village center, from where you have incredible view on the volcano of Calderon Hondo. On the spacious terrace or in one of the comfortable hammocks of the house you can relax and enjoy.
In the village center, which can be reached in about 7 minutes with one of the bicycles of the house, you can meet surfers on their way to the surf spot, enjoy a delicious smoothie, juice or coffee in one of the small cafés, visit the craft market or just be part of village life for a little while. The unique flair inspires travelers and surfers from all over the world.
There are several rooms in the house, but all have a private bathroom.
Apartment, 2 persons, private bathroom, access to the patio
Double room (double bed), poss. plus one single bed, ensuite bathroom, access to the terrace
Double room (single beds), private bathroom
caravans; converted circus cars: bedroom, bathroom, kitchen, private terrace, separate access
In addition, there is a spacious common kitchen with a large dining table, where you can enjoy together the magic of our conjured, delicious food or prepare your own meals. A cozy living room where you can rest after the classes or just relax and read a book.
Food
During the surf and fitness week you will wake up each morning with a healthy, vegetarian breakfast. During the week we also prepare four delicious dinners for you. We cook with a variety of vegetables, nuts, seeds, spices and other delicious products, if possible local and organic.
We prepare delicious homemade food for you to enjoy together at the big dining table. Most of the meals are vegetarian, vegan alternatives are possible.
Included in the price are:
7 times breakfast
4 times dinner
Drinking water and tea
If you have a serious allergy and do not tolerate some products, please let us know in advance. For the rest of the meals, there are many nice options for lunch or dinner in the village. Furthermore, there are a lot of great restaurants in Lajares, Cotillo or Corralejo. We are happy to give you tips on where to eat.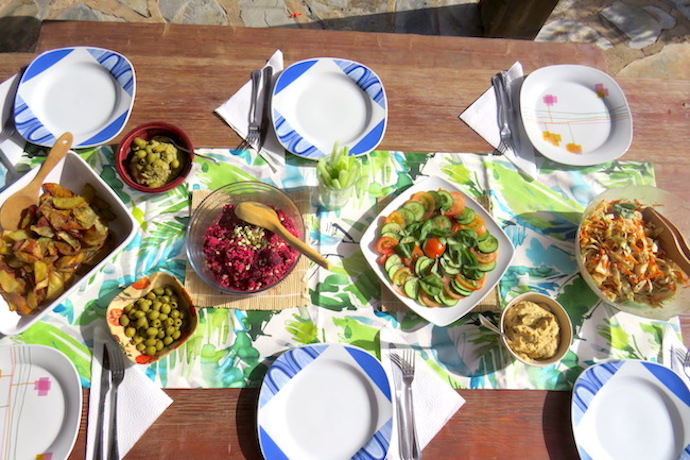 Surf course
You learn surfing with professional and interactive coaching, in small groups for a personalized and fun course. To guarantee the optimum learning conditions you will learn during low tide with appropriate equipment. This makes the course not only safe but pleasant and easy to start with !
If you are an intermediate surfer and want to progress and surf with control and focus, then our improving course is just for you. Our coaching techniques include simulations, videos or pictures in order for you to watch the footage while receiving feedback to improve your performance.
We provide you with all the necessary equipment and transfer from your accommodation to the surf spot. The course will last 5-6 hours including the transfer to the surf spot. Just bring some water/snacks, your sun cream and your smile!
Our surf classes are available in German, English, Spanish, French, Italian and Dutch!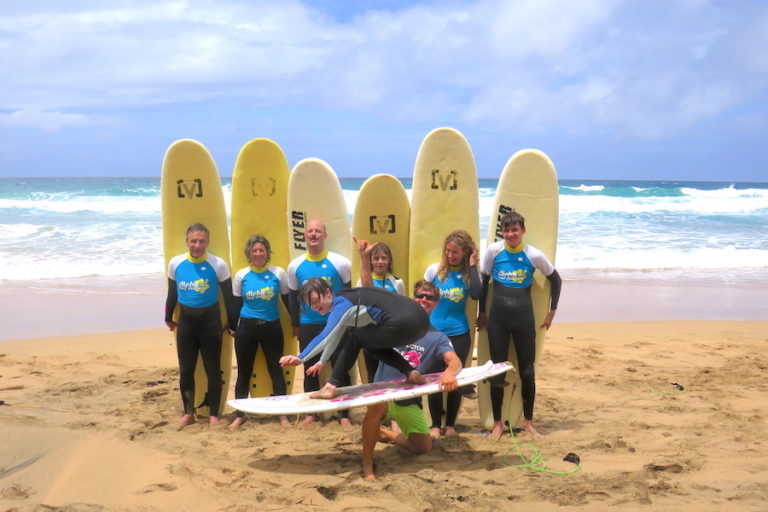 Functional training
During each of the 4 functional training classes of 1.5 hours each, you will activate your body with a combination of dynamic and static exercises with mostly your own body weight. The training is adapted to the needs of the group as well as individual fitness level. In FT, multiple muscle groups are addressed simultaneously, improving balance, coordination, muscle strength, and flexibility.
Goal is to feel your body and get to know it even better. Improve your body concept and have fun with it. Functional training is suitable for everyone, no matter what age!
Courses take place outside the villa or on the volcano with breathtaking views over the north of Fuerteventura. Normal training/ workout shoes are required.
They work together with German health insurances to support prevention services for primary prevention. The quality of the courses is guaranteed. The course is recognized as a prevention offer and can be subsidized by the German health insurances. More information can be found at Cerftification.
included:
3 surf courses
4 times certified functional training
course material
7 times vegetarian breakfast
4 times dinner
7 nights accommodation
Drinking water and tea
not included:
Airport transfer
Travel insurance
additional meals
Airfare
extra activities
Furthermore, there are many activities on water and on land, which you can try and enjoy in your free time. We are happy to help with organization and booking.
Extra actvities:
Surfing
Windsurfing
Stand up paddling
Kiting
Bodyboarding
Horse riding
Skateboard
Thai Massage
Yoga
Private functional training
Health coaching
Check the offer directly on the page of our partner AlohaSurfAcademy
For questions or for more information about the special week surfing and fitness, write an email to